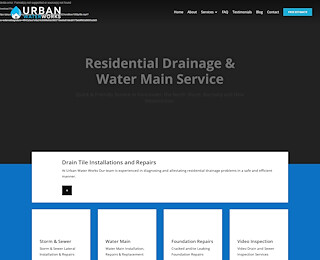 Your home has various systems that operate to handle your needs. Water is one of the most basic of those needs. Water is required every day from bathing to brushing your teeth, washing your hands, doing laundry and cleaning dishes. When you have a problem with your water main it can be catastrophic. Your home's water main in Burnaby is connected to the municipality outside, under the street. If the water main breaks you could be facing a flooding situation inside or outside your home and it requires immediate attention.
Problems with the Water Main in Burnaby
If you experience a water main break or problem the first thing a homeowner should do is turn off their main water valve. This should be located near the utility closet or in the basement, near the street side of the home. Turning this to the off position will keep water from flowing into your home. It also means that you and your family will be without water until the situation is resolved.
You will need to determine where the problem occurred. There is a point where the water main becomes the homeowner's responsibility. First, contact the municipality so they can assess the problem and determine whether it is on their side or on the homeowner's side. You can also contact a professional to examine the water main in Burnaby. There is typically a marked opening that may have become buried or covered with dirt over time.
If the problem lies on your side of the pipes you will need to handle the necessary repairs. The contractor will need to evaluate the damage to see what types of repairs are needed. Since the pipe is buried underground it can only be reached through some form of trenching or digging.
A video camera can be utilized to assess the damage from the inside. This is extremely helpful because it allows contractors to find the damaged portion of the pipe before they have to dig up the entire pipe. If a break is found, that section of the pipe may need to be repaired or a new pipe may be necessary.
Resolve Problems Quickly
If your water main has problems it should be considered an emergency situation. Call a contractor immediately to come to your home and examine the situation. A professional will put your mind at ease and ensure that no further water damage occurs until the problem is fixed. A problem with your water main in Burnaby can occur for a number of reasons. Pipes can degrade over time and tree roots can push pipes out of alignment.
If you are experiencing a problem with your water main do not delay in getting help. Contact us today to discuss your needs and to have us come out and check the damage. In the meantime, keep your water valve turned off so that there is no more water that can reach the inside of your home. Call us today to have your water main repaired or replaced.
Contact Urban Water Works Today!
Click Below for more Information on Water Mains!