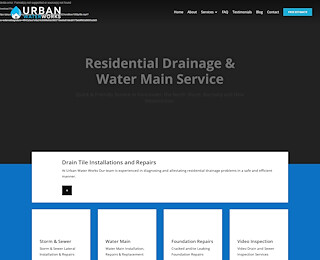 A water main break in Burnaby can make for one of the most difficult situations you can imagine. You may be facing flooding in your home, which can rise rapidly. If your pipes burst or break suddenly you should immediately turn off the main shut-off valve. This will usually stop the water from flowing into your home. Next, you will need to find out whether the water main break is your responsibility.
Determining Responsibility
The water main comes into your home from the municipality. There is a point where the municipality's responsibility ends and the homeowners begin. This point has to be determined when there is a water main break in Burnaby. The municipality should have a record of exactly where the tile and cap are located. If you do not see the tile and cap it could be buried. Call the municipality to come to your home and verify the location.
The location of the break or leak must be found. This will prove who needs to make the repair. Sometimes a camera can be used to find the leak. If the water main break in Burnaby is the homeowner's responsibility you will need to seek help from a qualified company.
Repairing a Water Main Break in Burnaby
There are a couple of options for making a water main repair. An excavator or digging by hand may be utilized in order to dig a trench to reach the broken pipe. The pipe will usually need to be replaced so a trench will need to be dug for the entire length of the pipe from the street to your home. The trench can also be hydro-excavated. Special equipment uses water pressure to blow through the trench and then the dirt and debris are vacuumed away.
Another option is a trenchless installation. In this operation the old pipe is used as a conduit and the new line is pulled through. This is an option that will be less damaging to your property. Before you begin any digging you must first make sure that you call utility services to locate their lines so they are not harmed during the process.
Unfortunately, a water main break is one of those problems that every homeowner hopes will never happen. If it does, you need to know what to do and it must be done quickly. Prepare for such an emergency by learning where your home's main water shut-off valve is located. Contact your municipality and also get in touch with a plumbing company as quickly as possible. Until the repair is made you will not have running water in your home, which will be a major inconvenience.
At Urban Water Works we understand the importance of your home's plumbing system. We offer fast, convenient and affordable professional services to diagnose and repair or replace your water main. We are also available for all other home plumbing services. If your water main breaks we will be there to quickly help resolve the problem! Contact us today for all your home plumbing needs.
Contact Urban Water Works Today!
Click the Link Below for More Information on Water Mains!