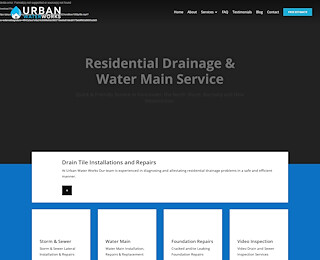 The traditional method of repairing an underground plumbing system, drain pipes, and clogged sewer lines can be stressful and time-consuming. Processes involved in conventional plumbing repairs including trench digging, broken pipes removal, laying new pipes, etc. are labour, cost, and time-intensive. All thanks to the innovative trenchless plumbing in Burnaby, all the stress that comes with traditional plumbing can be avoided.
The moment you notice that your plumbing system, drain pipes, and sewer lines are damaged, call Urban Water Works immediately. We are a reputable plumbing company that offers top class plumbing solutions in Burnaby, British Columbia, and nearby communities. We can help with repairs, installation, replacement, and maintenance of both residential and commercial plumbing systems.
At Urban Water Works, we aim to offer a smooth and stress-free way of repairing your plumbing issues. Our familiarity with the drain pipes, sewer lines, and underground plumbing system of the Burnaby, BC community makes us one of the best contractors that can effectively carry out your plumbing repairs.
Our innovative trenchless plumbing in Burnaby is perfect to help restore the plumbing system of your residential or commercial building to the optimal working condition. Our services are well-detail, transparent, and carried out with a high level of professionalism.
Top Class Trenchless Plumbing Services in Burnaby
Trenchless plumbing is now the best, time-saving, and cost-effective method of carrying out plumbing repairs in Burnaby. Our advanced trenchless plumbing techniques make it possible for us to detect the fault in your plumbing system without excavating your lawn or digging out the pipes.
Our expert team will use the innovative camera inspection technique to locate the fault. This involves sending a waterproof camera into your underground plumbing system. Polyethylene or epoxy pipe lining material will be used to reline the internal section of old, weak or damaged pipes.
The new polyethylene or epoxy pipe lining materials can be installed without removing the damaged or old pipes. Our trenchless plumbing in Burnaby offers you the perfect opportunity to save the cost of purchasing a new pipe or employing a large labour force to dig out your trenches. Once the job is skillfully carried out, you can anticipate your newly relined sewer pipes and drain to serve you optimally.
Choose Us for Your Trenchless Plumbing in Burnaby
For your trenchless plumbing repairs in Burnaby, our experts at Urban Water Works are the perfect fit to get the job done. Our methods are less invasive, and the repairs can be carried out within a day. We will offer you efficient, excellent, and prompt services.
Furthermore, only superior quality, highly durable pipeliners will be used. Our trenchless pipe lining meets industry standards and are guaranteed to serve you for an extended period. These pipelines will also increase the flow capacity of your plumbing system and drain pipes. This way, sewage, and wastewater can flow faster.
Contact Us Today!
Are you having issues with your plumbing system? Don't call an inexperienced plumber that will unnecessarily damage your lawn! Get in touch with us today at Urban Water Works. Our services are highly affordable. Be assured of getting outstanding services that give 100% customer satisfaction and nothing less.
Contact Urban Water Works Today!
Click Below for more Information on Trenchless Plumbing!