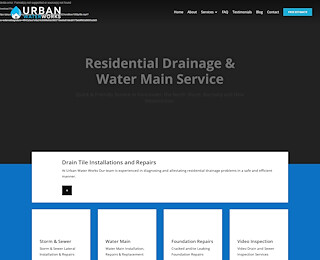 When you need sewer drain repairs in Vancouver, it may be because of a serious drainage issue, and it may be less serious such as a leak. However, if you're facing any of the following problems, it's best to call the team at Urban Water Works to come to help out.
We are professionals at assessing a variety of odd water drainage situations. You may not think anything of it if you saw the following, but we see them for what they are: major red flags that there is likely something going on in your plumbing. Give us a call right away if you see any of these common signs of water drainage problems:
Strange Sounds in Your Plumbing
Getting sewer drain repairs in Vancouver is one step towards a healthier, better functioning system. A functional system should ideally make no sound at all other than rushing water when you turn on the faucet or flush the toilet. If you hear any odd gurgling sounds coming from your plumbing when you flush the toilet or run another fixture in your home, let us know.
Hopefully, the sound turns out to be nothing but an old house making strange sounds. More likely than not, however, this is a sign of something more serious. Be sure to call us right away if you hear a percolating sound in your plumbing.
Unexpected Increase in Water Bills
Finding a plumber or other contractor experienced with sewer drain repairs in Vancouver is critical for many reasons. For one thing, they can help you identify some of the common signs of a drainage problem in your home. For instance, if you have a sudden spike in your water bill one month, you might dismiss it as the water company raising your rates or some other fluke.
However, the most frequent cause is an uptick in water usage, which may be due to a leak or a blockage in your plumbing. The best thing you can do for yourself and your home in this instance is to give Urban Water Works a call right away.
Inexplicable Patches of Green in Your Landscaping
Most people wouldn't complain at all if they saw that their grass outside was suddenly growing green and lusher. However, if this is happening to your landscaping, it's best to call a professional contractor out right away. It may be getting some extra fertilization due to a sewer line leak underground.
If you're finding that you need sewer drain repairs in Vancouver ASAP due to a sewer line leak, this is not usually something that your plumber friend next door can handle. Make sure you call in experts in sewer lines in particular, as this is a more complicated issue.
Here at Urban Water Works, we are the company to beat when it comes to sewer drain repairs in Vancouver. We will be sure to go above and beyond for you when it comes to assessing the situation, coming up with a workable solution that not only will help you in the short-term but also in the long-term going forward.
Contact Urban Water Works Today!
Find out more about Sewer Drains by Clicking Below!