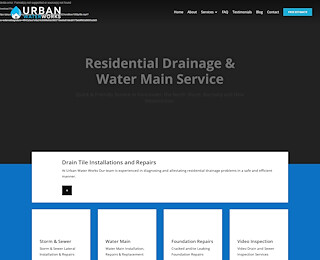 Left unchecked, moisture in your basement can encourage mold, ruin walls and floors, and may also damage roofing. Fixing the water problems in your basement is crucial because it protects your family's health and the value of your house.
Urban Water Works has your back on any water-related issues. We are experts in leaky basement repairs in Burnaby.
Do You Have A Leaky Basement?
Leakages slowly and eventually damage a house. The audible sound of running water is mostly an indication of a leak in your home. Do not allow these water concerns to escalate. Urban Water Works is here for you. Our trained team has extensive knowledge on how to safely and efficiently fix the leaks or any other water concerns that might be bothering you.
Your main water has shut valves that control the flow of water in your house. The curb stop and these valves are vital. It is important that every homeowner knows exactly where they are and how to operate them to prevent drainage problems. Enquire from us to know more about your drainage system.
Why Do We Perform Video Inspections?
Sometimes video inspections are necessary to reveal the source of the water issues. Our team does not rush to perform a drain clean since it is a short-term solution. Instead, we embrace the power of video inspections to come up with the best solution for your problem.
 We are certified experts in conducting video drain and sewer inspection services. Most customers are interested in seeing the extent of their water drainage problem. The cameras we use for the video inspection can record the drainage problem on a USB or even live on Wi-Fi. We provide a copy of the video to our customers.
Installation and Repair Services of Drain Tiles
Drainage is a key system that goes unnoticed in many homes. Well, this is mostly because the system is lying underground where no one can see it. Your drainage system needs to be inspected often to ensure everything is running smoothly down there. This should apply to all houses regardless of the material used in construction.
At Urban Water Works, we use a flushing program alongside a video inspection to address your drainage woes safely and efficiently. It does not matter if your house has clay tiles; we are professionals in installing and repairing all sorts of drainage tiles.
Urban Water Works Services
Are you in Burnaby, Vancouver, North Shore, or New Westminster? Our services are available in these four areas. We are experts in providing sewer line, drainage, and video inspections services.  
We focus on providing our clients with satisfactory customer service at competitive rates. You can trust us with all your water projects, whether big or small. Our team strives to work hand in hand with our clients to come up with the best possible solution for your drainage issues.
 Urban Water Works is the ultimate solution for your leaky basement repairs in Burnaby. Give us a call today on 604-265-9795 for all your water line, video inspection, and drainage needs.
Contact Urban Water Works Today!