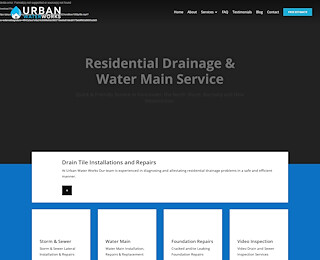 Are you looking for foundation repair in Vancouver BC? Contact Urban Water Works and let us help you with your foundation repair today.
What Causes Foundation Problems?
There are several reasons you might require foundation repair in Vancouver, BC. What are some causes of foundation failure? A few of the most common reasons that your foundation has problems are:
Improper drainage is the most common cause of foundation failure. Constant moisture can settle in specific areas creating uneven support. Excess moisture also causes erosion and removes soil from around the walls. If either of these happens, you can have cracks form in your walls that will lead to a leaky basement or a settling foundation. It is crucial to make sure the soil slopes away from your foundation. Keeping your gutters clean and free of debris will help too.
Plumbing leaks can often cause foundation problems. Often you may not notice the leak, but your foundation will. Leaks usually happen in the drain that removes water away from your home and into the city's service. Your foundation will continue to shift until the leak is repaired.
Inferior Foundation Construction can lead to a foundation problem. If the builder didn't use high-quality materials when constructing your foundation, it wouldn't take long for you to experience problems. Your foundation will be prone to leaks and settling.
Improper Ground Preparation around your foundation can also cause significant problems.
If you need a foundation repair in Vancouver and believe you have a drainage problem or leak, contact a professional that specializes in draining issues.
How Do I Choose the Best Company?
You will want to do a lot of research. If you notice you have a water leak or a drainage problem, you will want to make sure the company you hire will do the job right. Ask your neighbours who they have used in the past for their foundation repair needs. They will have some good suggestions. Ask friends, relatives, and co-workers if they can recommend a company that takes care of drainage and/or water leaks. 
Contact the local BBB after you have done research, read online reviews, and choose a few different companies you feel would best serve your needs. Get estimates to see what the repair is going to cost. You may be surprised at the differences in price from one company to another.
Choosing the right company to work on your groundwater problems doesn't have to be complicated. Make sure you know what they will repair, how they will do it, and how much it is going to cost. It is always best to have everything in writing because it will save problems when it is time to pay.
What Services Do We Provide?
Water Main: We will install, replace, and repair as necessary.
Video Inspection: We are certified to perform video inspections and get to the source of your problem.
Drainage: We can install drainage tiles and make repairs.
For all of your drainage issues, contact Urban Water Works, and let one of our professionals diagnose your problem and take care of the underlying problem. You will receive a courteous, prompt response. 
Foundation Repairs Require Immediate Assessment, Call Today!