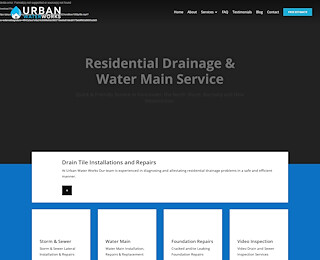 Driveway drainage is a critical factor to consider when aiming to landscape your garden. Excess water can easily collect during torrential rain and damage structures in your house or garage. If you need guidance or estimates about driveway drainage in Vancouver, our staff, at Urban Water Works, will be happy to advise you.
The need for driveway drainage
You can often overlook driveway drainage, even though it is a crucial aspect of landscaping. A lot of water can collect and seep into your garage or house during heavy precipitation. For the structural composition of your home, the last thing you want is a pool of rainwater collecting near your foundation, because rainwater can carry a lot of minerals or other chemicals that can damage the structures around your house.
Whether you need drainage for your driveway or not depends on the type of material you choose for the driveway. If you select an impermeable paving material like concrete, you will definitely need drainage. There are also permeable paving solutions for driveways, with paving tiles that have gaps between them for rainwater to seep through, but these gaps leave room for weeds to grow.
The best solution is to install a driveway drainage. This is very important if your driveway doesn't slope down to the road or if you have concrete as pavement. If you require assistance installing driveway drainage in Vancouver, we would be happy to advise you on solutions.
What should I consider when choosing driveway drainage?
You should consider several factors when choosing driveway drainage. The drainage systems come in several widths and materials. Durability is the essential factor you need to consider because rainwater carries chemicals and minerals from surrounding areas that can damage the drainage.
Materials used for driveway drains include fiberglass, concrete, and HDPE. Whatever the material, it should have great strength and chemical resistance. The type of materials will also influence the cost, so if you contact us, our staff can do their best to advise you on the best material for your application and budget limits.
You also need to consider the water capacity of the drain by taking into account the rainfall your area receives. The width of the drain will depend on how much depth and length of space you have in the driveway.
Is it really expensive to install driveway drainage?
The cost of installing driveway drainage depends on the type of driveway drains you purchase and the build-up materials. If you need a lot of drainage space and need to dig a trench with a large area, it could cost you more.
 On average the cost of installing a driveway drain ranges from $1000 to $5000. Contact us if you need more information, and we might be able to give you estimates.
Are you looking for driveway drainage in Vancouver? At Urban Water Works, we would be happy to advise you on things like costs and choosing drainage products.
Contact Urban Water Works Today!