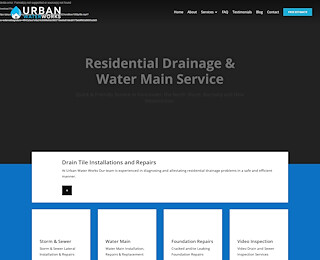 One of the essential systems on your property is drainage. Vancouver drainage is a very unique system that requires the assistance of an expert. Even though it's usually not in sight, drains are responsible for properly disposing of your home or business wastewater. However, at some point, the drain can become clogged or malfunction. In those cases, the wisest thing is to have a professional team to help you deal with the problem.
Drainage specialists won't be useful only in emergencies. If you want to have the system in optimal conditions, the best thing to do is to have the specialists do an inspection. This will allow you to detect irregularities in time. Besides, the professionals will be able to suggest some change or renovation. In this way, you will avoid serious problems and more significant disbursements of money.
Why Is It Essential to Keep Drainage in Perfect Condition?
Keep in mind that this network of pipes handles a large number of gallons of water a year into the public network. Also, the drain handles other types of waste, such as grease, soaps, and other products. Over time there may be accumulations of these wastes somewhere in the network. This will prevent the proper functioning of bathrooms and kitchens.
If the jam is large, you could suffer a flood, putting at risk not only the furniture of your home but also compromising the health and welfare of your loved ones. Also, keep in mind that a pipe rupture will go almost unnoticed, but it will bring undesirable moisture to the floor of your home. In the worst cases, floors can collapse, and this will bring you great inconveniences. If you would like the best service of drainage in Vancouver, please contact us. The professionals at Urban Water Works will be happy to assist you.
How To Select The Ideal Drain Plumber?
Specialization
In the market, you will find a variety of plumbing services. There are integral plumbers and specialized plumbing. The wisest thing is to select the plumbing service with Vancouver drainage expertise. This guarantees that they will have the right equipment to serve you, such as camera inspection systems, for example.
Also, consider that the most experienced suppliers will probably already have dealt with the problem with your property. This experience is highly valuable, as the specialist will know which is the best plan of action. This will allow them to deal with your case promptly, saving you the hassle, time, and money.
Cost
These are specialized jobs, and every dollar you invest will be worth it. Consult with a variety of suppliers, and consider those with equivalent costs. Also consult with professionals for additional costs for evening, weekends and holidays services.
Quality Service
You also need to investigate the companies' track record. The company that has the best website is not necessarily the best. Check with their previous clients, or you can read the different reviews on the Internet. You will never find better information than the previous experience of the users. Finally, make sure that the professionals are properly certified and insured. In this way, you guarantee that you will receive extraordinary service.
Trust The Experts
If you want the best service of drainage in Vancouver, you can count on Urban Water Works. Allow our team of specialists to support you so that you have the drainage of your property in optimal conditions. We are BBB Accredited Business, which makes us the reference company in the region, and guarantees the quality of our services. Contact us; we will be proud to work for you.
Contact Urban Water Works Today!