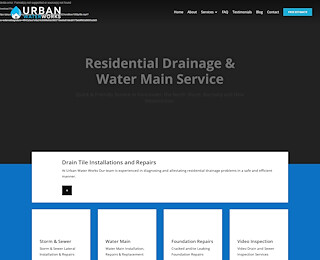 Your drain pipes are an essential part of your entire plumbing system. These drain pipes help to remove wastewater from your home. To ensure that the installation project is well executed, it is better to hire the expertise of a reputable company that offers drainage pipe installation in Burnaby. This is where we excel.
At Urban Water Works, we are known to provide excellent plumbing and drainage pipe installation services. All our drain pipe installation projects are excellently executed and are built to last. Your drainage pipes will be well installed and channeled. This way, we can prevent against backflow.
Over the years, we have been known to provide excellent drainage installation services to both residential and commercial buildings in Burnaby, BC, and surrounding area. Our drainage pipe installation in Burnaby is well detailed and carried out with a high level of professionalism.
Reliable Provider of Drainage Pipe Installation Services in Burnaby
Let our experts at Urban Water Works handle every process involved in installing a drainage pipe system in your Burnaby home. We remain your go-to provider of drainage pipe installation services. We are always ready to dedicate every resource at our disposal, including human resources and technical know-how to get the job done.
At Urban Water Works, we work with a team of well-experienced, skilled plumbers that have been put through comprehensive training on how to install drainage pipes. By making use of state-of-the-art equipment and innovative techniques, our experts will offer you excellent plumbing services that will surpass your expectation. When it comes to providing drainage pipe installation in Burnaby, BC, no other contractor can deliver exceptional services like us.
High-Quality Plumbing Pipes and Accessories for Your Installation
At Urban Water Works, we do not compromise on our integrity. Only superior quality pipes and plumbing accessories will be used for your project. This will help ensure that your drainage pipes remain functional and serve you for an extended period. Thus, you will not need to bother about unnecessary plumbing repairs now and then.
Choose Us for Your Drainage Pipe Installation in Burnaby
Quality workmanship, attention-to-detail, prompt and excellent services, and outstanding customer experience are some of the things that set us apart from other plumbing contractors in Burnaby. We promise to execute your project to the best of our abilities. You can always look forward to a drainage system that will serve you efficiently.
Above all, our services are well-detailed and high affordable. We are always ready to offer you drainage pipe installation solution tailored to your budget and drainage needs. We can also help with drainage pipe and other plumbing repairs, replacement, and maintenance.
We offer you a regular drainage pipe cleaning or maintenance routine. This will help get rid of any clogs in your drainage pipe that can obstruct the flow of wastewater or rainwater. This way, your drainage system can keep working all year round.
Contact Us Today!
Are you in need of drainage pipe installation in Burnaby? Contact us today at Urban Water Works. Be assured of getting exceptional services that will surpass your expectations.
Contact Urban Water Works Today!
Check out the Link Below to Learn more about our Drainage Services!