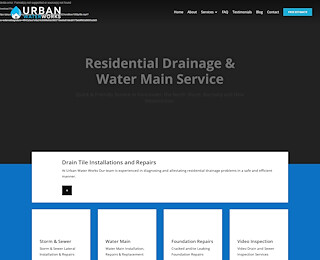 Too many people take their plumbing system for granted. If you stopped to think about how often it gets used, we think you might be surprised. Try to calculate the amount of time that you use the dishwasher, bathe your kids, take a shower yourself, wash your hands, flush the toilet, run your sprinkler or irrigation system, etc. It gets pretty tough to do, right?
It's no wonder then when people need plumbing repair why they are so frantic to find a reputable local plumber. Here at Urban Water Works, we have the experience and the expertise to do a great job on any project you need, no matter how big or small. To protect your drain tile in Vancouver, and to also keep your plumbing and water main system in good shape, here are some reasons to reconsider your plumbing and take repairs seriously.
Saves You Money
You will save quite a bit of money when you have the professionals like the team at Urban Water Works to come check out your drainage system and make sure everything looks good. We'll take a look at everything from your water main to your drain tile in Vancouver to make sure there aren't any issues.
When your system is working great and is free of leaks, you'll save a lot of money on your water bills. You'll also save quite a bit of money because you won't need repairs as often as your neighbors do. While you're out and about in the neighborhood, let your friends and neighbors know about us. We'd love to help get the whole community's water systems running properly.
Improves Reliability
Clogged drains are one of the most—if not the most—common plumbing and drainage issues. It can ruin the look of your drain tile in Vancouver while making your plumbing system a frustrating beast to work with. They can also start to smell bad.
Calling out the professionals to improve your drainage situation can make your plumbing more reliable. We'll come in and remove minerals and other waste that has built up in your system over time to make the run of the mill drain clogs a thing of the past in your life.
Avoid Significant Disasters
You should also take your plumbing very seriously because when disaster strikes, a broken plumbing system is going to cause some serious damage. Make sure that it's always working properly and that you give us a call at the first sign of danger so we can assess the situation and make sure everything's okay now and going forward as well.
Always Have Someone to Call
When you do have problems with your drain tile in Vancouver or with your drainage in general, there's significant value in knowing ahead of time who you're going to call. The best time to start taking your plumbing and drainage systems seriously by finding a reputable professional to help is not right when disaster strikes. The best time to find a qualified contractor is now.
We want you to call us when you have a problem with your drain tile in Vancouver or any aspect of your plumbing that's a concern. We're always happy to come out and help whenever you need us. However, with some routine maintenance and a matter of merely caring more for your system, you won't need to call us as often because your water main and drainage will be working correctly.
Contact Urban Water Works Today!
For more Resources on Drainage, Click Below!