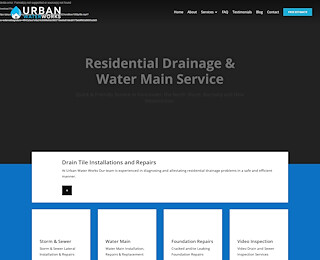 The drainage system in your Vancouver home is an important system in the home. Today, a lot of home construct their drainage using drain tiles. These drain tiles help in collecting and channelling the groundwater away from your foundation.
Over time, debris and roots can infiltrate the system, thus, compromising the system. Water is not effectively channelled. The foundation of your home will be affected. Once you notice this, the best thing is to call a reputable contractor that offers drain tile repairs in Vancouver to fix the issue. Urban Water Works is the ideal contractor to get it done.
At Urban Water Works, we are committed to providing excellent drain tile repair and drainage services. We are always ready to dedicate every resource at our disposal to fix the issue with your drain tiles. Within a short period, we will repair the tiles and get your drainage system working at optimal performance again.
Our services are well-detailed and highly professional. Our ability to always deliver exceptional drain tile repair services makes us the preferred choice for homeowners in Vancouver neighbourhoods. With us, you are guaranteed to get the very best of drain tile repairs in Vancouver.
Benefits of Professional Drain Tile Repairs
Repairing your drain tiles using DIY methods can be stressful and time-consuming. Some of the reasons to hire a professional contractor to handle the repairs include:
Save Time:
While DIY methods can take you days or weeks, the professional will get it done within a short period. The contractor can easily identify the faults and fix them appropriately.
Fault Detection:
Professionals use sophisticated equipment to detect a fault in your drainage system. Even if your underground systems are damaged, the contractor can use a video inspection technique to identify the fault. With this, adequate repairs can be done.
Lasting Solution:
Professionals can help provide a lasting solution to the recurring issue with your drain tiles. Instead of DIY techniques which may only be temporary, hiring an expert will be the lasting solution you seek for.
Choose Us for Your Drain Tile Repairs in Vancouver
Quality workmanship, excellent, well-detailed, and prompt services are some of the things that distinguish us from other contractors that offer drain tile repairs in Vancouver. Our expert team is always ready to provide a fast, effective, and lasting solution to your drain tile issues.
In addition, we can offer you other services. These include Water Main, Video Inspection, Storm and Sewer Lateral. We also provide outstanding support that you can always rely on. No matter the issues with your drainage or water main system, our professional team is always ready to fix them.
Above all, our services are very affordable. We can tailor our services to your budget and needs. We can also offer you a regular maintenance plan. This will help keep the drain tiles and drainage system working all year round.
Contact Us Today!
Contact us today at Urban Water Works to know about our drain tile repairs in Vancouver. We guarantee you excellent services that give 100% customer experience.
Contact Urban Water Works Today!
Learn more by Clicking the Link Below!