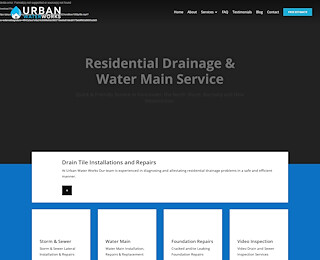 Drain tiles are a vital part of the plumbing system of your Vancouver home. These drain tiles help in protecting against water seepage and flooding. They collect and channel groundwater away from your foundation. They are usually installed in the basement or around the outer perimeter of the home. To ensure that the installation project is well-executed, it is advisable to hire a reputable contractor. Always turn to Urban Water Works for your drain tile installation in Vancouver.
At Urban Water Works, we provide excellent drain tile installation and drainage services. We have what it takes to install, maintain, and repair all parts of the drainage system of your home, including your drain tiles. We serve homeowners and businesses all over Vancouver and nearby communities. You can always count on us for all your drain tile installation needs.
Our services are well-detailed and highly professional. We are always ready to dedicate every available resource at our disposal to execute your drain tile installation project. Our ability to always deliver outstanding installation services makes us the preferred option for several individuals and business clients for their drain tile installation in Vancouver.
We Provide Professional Drain Tile Inspections and Cleaning
For your drain tiles to continue functioning optimally, it is important to carry out regular inspections and periodic cleaning. Our experts at Urban Water Works can handle everything involved in inspecting and cleaning your drain tiles.
We make use of state-of-the-art video inspection technology to detect the source of any leaks in the drain tiles. We also identify the sections that are clogged and require cleaning. With this, we can prevent trial-and-error and deliver excellent services.
Our professional drain tile inspection and cleaning will help clear the clogged drain and remove debris. The process also helps in preventing flooding and protecting your foundation. Thus, the value of your home is preserved. Our drain tile services will give you the needed peace of mind that your foundation and home is well protected, especially during the rainy season.
We Can Repair Faulty Drain Tiles
Over time, debris and roots can infiltrate and compromise your drain tile system. Call on our experts at Urban Water Works to help fix the issue. We are always ready to provide a fast, effective, and long-term solution to the problem with your drain tiles. Within a short period, your drain tiles will start collecting and channelling water effectively.
Choose Us for Your Drain Tile Installation in Vancouver
Are you building a new home, upgrading your drainage system, renovating a basement? Contact us today at Urban Water Works to help install drain tile trenching in the house. Our experienced experts will execute the project excellently using sophisticated tools and techniques.
Our services are affordable and well-detailed. We will identify possible problems and design a drain tile system that will serve your best. We are always ready to tailor our services to your budget and needs. With us, you are guaranteed to get outstanding drain tile installation that will surpass your expectations.
Contact Urban Water Works Today!
Click below if you want to hire a Drainage Expert!