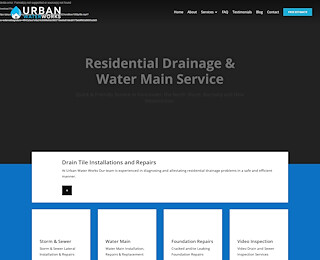 It's easy to procrastinate on cleaning your drains, but not doing so can create sudden plumbing catastrophes in the future! Getting it done professionally can save you a lot of time and effort. If you're looking for drain cleaning in Vancouver, contact Urban Water Works to see how we can assist you!
Why you need to clean your drains
You've probably seen all the DIY videos using baking soda or vinegar as a hack for unclogging drains. While it is good (and fun) to do DIY drain cleaning when they occasionally clog, drains need to be maintained regularly and properly. If your drainage system becomes damaged, then it can bring a lot of stress and unnecessary disruption to your daily life.
Getting your drains cleaned professionally not only gives you the peace of mind regarding your home's structural integrity, but you might even learn about problems that you never knew existed. Regular drain cleanings and maintenance ensures that your Vancouver drainage systems lasts longer without needing replacement.
How often should I clean my drains?
While you should be cleaning drains on your own regularly, it is good to have it professionally cleaned occasionally. If your drain is used a lot, getting it cleaned professionally is even more important. We provide professional drain cleaning in Vancouver.
We recommend you to get your drains professionally cleaned if you start to notice the drains clogging more frequently than usual. If it's clogging more than once a month or so, it is a good idea to call for professional drain cleaning services. This can mean that there's something wrong in the drainage system that could warrant repair or replacement, and a licensed plumber can easily detect the issues.
There are also several factors that influence how often you need to clean your drainage system. These include the age of your home (and drainage system), the area you live in, material your drainage system consists of, and the lay of the land. If you have an older drainage system (more than a decade old), you might need to clean it more regularly or even replace some parts.
As a guide, it is good to get your drainage system cleaned and checked every two years or so. But, if you experience clogs regularly, you should call a professional sooner rather than later!
What should I do to maintain our drainage system?
Apart from getting it professionally cleaned and maintained, there are several preventative measures you can take to extend the life of your drains. The most common problem for most households is hair clogging the drains, especially if you have a number of people in your household.
Wherever possible, you should use drain filters to avoid hair and food going into the drain. You should also avoid sending things down the drain that don't decompose, such as plastic.
Are you in need of professional drain cleaning in Vancouver? Contact us at Urban Water Works to have your drainage system checked and tested. We highly recommend professional drain cleaning if you have an older house with several people.
Drain Cleaning is Tough, Call in Urban Water Works!